5 Myths and Truths About Cleansing and Acne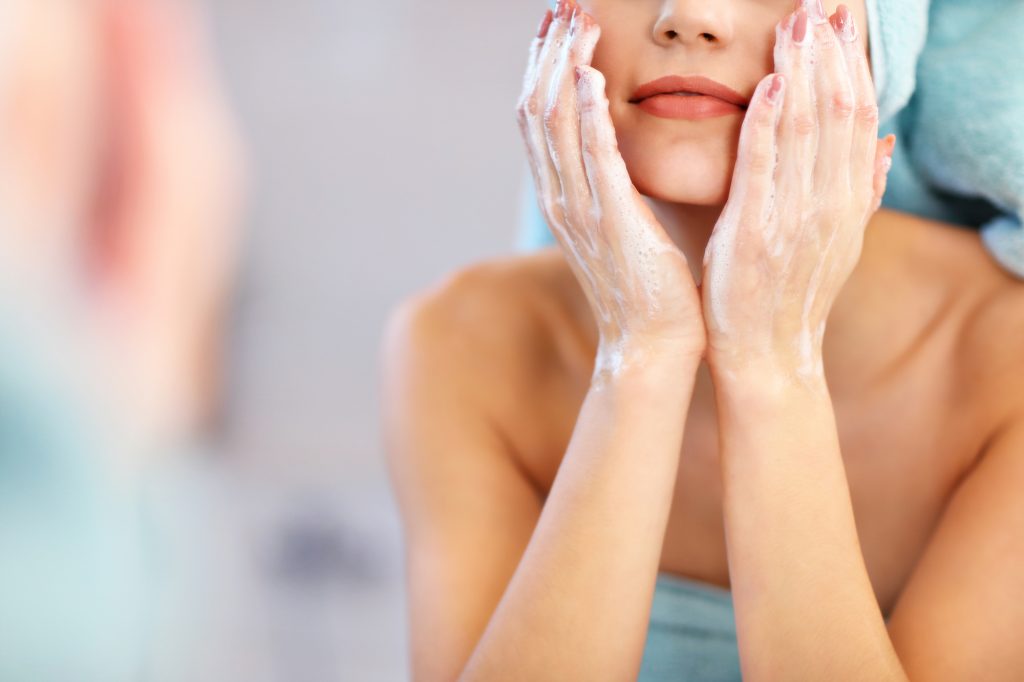 Cleansing is the most important part of a skin care program, no matter the skin type or condition. Equally important is choosing the correct product. So often TV commercials and magazine ads promote cleansers and exfoliating products that could be more harmful than helpful. Let's explore the most common misconceptions and the real truths that are associated with acne-prone skin.
The Myth: Oily skin will always have acne.
The Truth: While acne skin is always oily, oily skin is not always acneic. While there is a connection between acne and oily skin, not everyone with oily skin has acne, and drying the skin out doesn't cure acne.
The Myth: Cleansing multiple times a day is necessary for oily skin.
The Truth: Cleansing multiple times a day will likely leave you feeling dry or flaky and is responsible for stripping the skin of its acid mantle. The acid mantle is a very fine, slightly acidic film on the surface of human skin acting as a barrier to bacteria, viruses and other potential contaminants that might penetrate the skin. Acne skin may also try to compensate for the oil that has been stripped away by secreting even more oil. Cleansing too often with soap based products can also lead to irritation, rashes and the potential for more breakouts. This can start a vicious cycle of believing you need to cleanse whenever you feel oily. Your skin will soon show how unhappy it is! Cleanse twice a day, morning to remove overnight secretions and evening, removing makeup, excess oil and environmental irritants.
The Myth: Exfoliating daily is necessary to keep acne in check.
The Truth: Exfoliating daily can be quite harsh on all skin types particularly oily acne skin. A great many clients think if their skin is oily and acne-prone, scrubbing it will be of benefit. Aestheticians know this can be harmful because most people with acne also have inflammation or cysts. Advertisements for rotating brushes, grainy scrubs and home microder­mabrasion devices have flooded TV and magazines. These ads can lead the consumer to think these types of products and devices products are acceptable for daily use. Over exfoliation can result in increased inflammation, skin sensitivity, extreme dryness, impaired barrier function, hyperpig­mentation and even potential scarring. Cleansers with an alpha or beta hydroxy acid blend will assist with exfoliation without being overly aggressive.
The Myth: If your skin feels dry, you don't need to wash it.
The Truth: Dry skin still needs to be cleansed daily. When clients with acne experience dehydration/dryness coupled with inflammation, just the thought can be daunting. Harsh cleansers or soap leave the skin feeling tight and drier than before. There are several creamy cleansers, and even foaming cleansers, that are effective for cleansing without over-drying the skin. Remember external irritants such as pollutants we experience daily can also lead to breakouts and inflammation.
The Myth: Using a creme or oil-based cleanser will cause breakouts.
The Truth: The use of pre-cleansing oils are a good choice for cleansing and for good reason; oil is attracted to oil. Clients suffering from acne tend to shy away from products that are oil based, as they are often afraid it will make their skin worse. On the contrary, these specialized oils are excellent for oily and acneic skin. The oils used in these products assist in emulsifying the oils on the surface of the skin, leaving it thoroughly prepped for another cleanser to work more effectively. Pre-cleansing oils are also great for taking off  makeup, which is a great benefit for acne clients that wear heavy makeup to cover blemishes. Creme cleansers can also be a great choice for those with dry or highly inflamed skin.
The Myth:  Cleansers that make your face feel squeaky clean are best for acneic skin.
The Truth: Using drying cleansers with acne will only sensitize the skin further because they strip off  that all important acid mantle! Stripping away the natural oils (sebum) that protect skin from external factors (dirt, pollution, etc) can easily upset the natural balance. The skin will try to overcompensate by stimulating the sebaceous glands to produce more oil, potentially causing even more breakouts.  Stronger is not necessarily better, especially in the case of skin conditions associated with inflammation.